Five false myths on Japanese bondage
In this post I will show you five false myths about Japanese bondage that a lot of people, even practitioners, have in mind still today.
How many of them did you know? And how many of them did you find while reading an article or a book or simply talking with someone?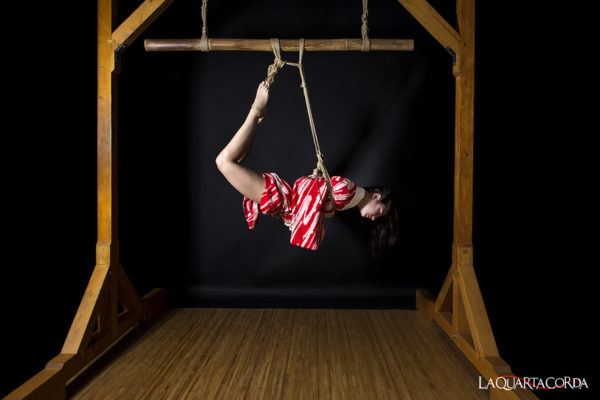 1. Shibari is an antique Japanese art practiced by the geisha.
We start with a great classic: Japanese bondage isn't an antique and millenary art! Actually shibari was born during the first decades of the XX century at the hands of Itoh Seiu (1882-1961). It's definitely anachronistic dating it during the Edo period (1603-1868) or even further back.
Furthermore the geisha didn't tie their clients and the transformation of the use of ropes from the martial art of hojojutsu to the erotic practice didn't happen by their hands. Let's forget about this image of them forever.
.
2. Shibari and kinbaku are very different practices.
Shibari means "the act of tying" o "tie" and it must be pronounced [ʃɪˈbari]. Kinbaku means "tight binding" and the pronunciation is near to [ˈkinbaˈku], as if both the first and the third syllables were stressed.
Sometimes you can read that the one is an art and the other is sex or that the one is the evolution of a martial art and the other a sadomasochistic practice. That's wrong. "Shibari" can mean "tie" in general whereas "kinbaku" is only related to erotism, but we can consider these terms as synonyms.
Please note that "kinbaku" is written with N!
.
3. Shibari is an art and has nothing to do with sex and BDSM.
Shibari or kinbaku is bondage in Japanese style and it's part of the wide world of BDSM like every other type of bondage, made with ropes or not.
It is a practice that is connected to the sphere of sexuality and there's nothing to be ashamed of for this reason. If we go beyond the idea that sexuality is not only having sex, we realize that there is a continuum of possibilities of interpersonal expressions between two people where bondage can find its collocation, being practice among friends or something more intimate, having a caressing or a more strong style, etc.
Moreover there's no connection at all between the position of the knots in a tie and the pressure points of shiatsu or acupuncture. Yes, you can also read this in some online posts!
.
4. Shibari is a form of martial art that you can practice in a dojo.
Japanese bondage does suffer from psychological and iconic imagery which traces back also to hojojutsu, the defensive martial art of immobilizing the opponent through the use of ropes, but shibari isn't a form of hojojutsu or martial art, it's an erotic practice.
Sometimes the places where bondage is taught are called dojo… but this happens only in the West! Actually almost the totality of Japanese teachers wouldn't call his school "dojo" just because martial arts have nothing to do with this.
.
5. Me top, you bottom.
The most used terms to call the one who ties and the one who is tied up are "top" and "bottom", since these terms don't indicate any domination-submission dynamic between who play with ropes.
There are also other terms to be used in this context but maybe they are a little uglier than the others, like "rigger" for the one who ties and "rope bunny" for the one who gets tied up.
Other terms like "bondager" (a word that doesn't even exist in English) or "roper" (literally "ropemaker") are fortunately no longer used.