Bondage – and BDSM – easily explained
Many people think of "Fifty Shades" scenarios when they think of bondage and BDSM. Well, reality is very different, more interesting, more fun and we will discover it in this article and a little final game that I invite you to play.
And if there is someone you know who does not know what BDSM is or has a slightly distorted idea about it, share this post with them!
.
.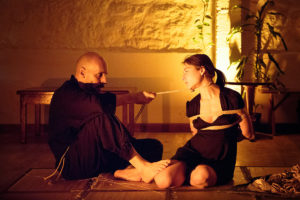 1 – Why do people do it?
The first question that everyone asks is "but why do people do it?"
Among the photos and videos that we can find online, we see glossy images suitable to be used in some vague articles, and others, instead, made by professionals, perhaps with spectacular suspensions or very complex tying methods.
In reality, we have to think of ropes simply as a means of communication. I can say the same thing – for example, "I like this part of your body" or "I like this feeling that the strings give me" – in words, with a gesture or through the strings.
"But why use ropes?"
Once we are immobilized or we immobilize our partner, we become more vulnerable or make another person vulnerable; this allows us to get rid of all those "walls" that we pull up in everyday life. When we do bondage, we grant access to our body or enter the partner's physical and psychological space. For these reasons and for the intensity of the experience, sometimes we touch on aspects that are difficult to talk about in words, intimate aspects, desires that maybe we feel the need to "give ourselves permission" to explore and live.
A good way is to do it through the ropes.
.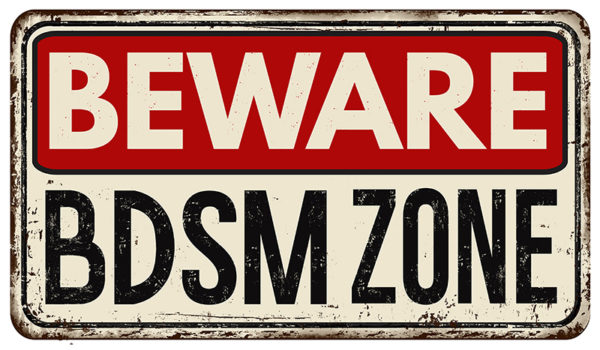 2 – Is it part of BDSM? What about sex?
Bondage is the very first letter of the acronym BDSM, so obviously it is part of it!
BDSM is an acronym that stands for
Bondage – understood not only as tying and handcuffs but also as erotic "slavery",
Domination – when there is an exchange of power and one of the partners "leads" the game – but also Discipline – or the rules that, if broken, can lead to some "punishment",
Sadism – or taking pleasure in inflicting pain or humiliation on the partner – but also Submission, when one of the partners gives part of their freedom to the other,
Masochism – or taking pleasure in receiving pain or humiliation and being able to eroticize it.
BDSM is therefore not a "swear" word; it is simply a group of practices that have to do with an exchange of power, domination and submission, immobilisation, sadomasochism.
Obviously, we are talking about games done by people of legal age and with mutual consent who have fun with the sole purpose of trying and making the other feel pleasure in a safe, sane and consensual way. We will talk more about this later.
"What about sex? The dear, old, traditional sex? "
There is no "traditional" sex and even the word "sex" encapsulate much more than just sexual intercourse. In any case, BDSM is an enrichment, one more possibility for the couple in the world of eroticism and sensuality.
And since "sex" is not just a sexual intercourse, we can do bondage with partners with whom we have different relationships – of friendship, of love, of sex, even of casual acquaintance – and we can do it in different ways and with different purposes, exactly how in life we ​​relate in different ways with different people.
.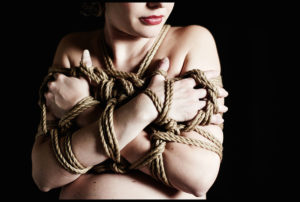 3 – All the pleasure of BDSM
The ways to enjoy BDSM and bondage are many and very personal.
Do you know chili? I like a bit of "spicy", but just a little bit too much will bother me; yet many people pour the chili pepper in handfuls on the plates! I also like pepper, but I don't like the taste of mustard.
In BDSM it is exactly the same: a person may like to be bitten on a nipple but there are also those who put a metal clip on them, there are those who love to spank, those who like being whipped, those who say what to do and those who like being told what to do by someone else. There are those who love strong sensations and those who love softer ones. Indeed, even the concept of "strong" or "soft" is very personal and there is nothing that establishes it a priori.
You don't have to do everything. "Extreme", "alternative" or "kinky" sex – whatever we call it – is a space in which the idea of ​​"traditional" sex is deconstructed, experimented, known, challenged. Everyone can find out what they love to do and how. Depending on the inclinations, a certain stimulus, which in everyday life we ​​would define as annoying, could turn into an exciting pleasure.
And it's not about gender, sexual orientation, how we behave in everyday life or the type of work we do. Nor can we say that the dominant is the active part and the submissive the passive one: we are complementary and have the same value in choosing what we will do. We simply try to find common ground where we can express what we want to do in a satisfying and respectful way.
One thing is certain: to the extent that we like them, these practices can give us new and unusual stimuli, speak to our body and our brain.
.
4 – Who ties who?
In BDSM, "top" is whoever realise a certain action – for example, tying – and "bottom" the one who receives it.
Let's clarify immediately that these "roles" have nothing to do with gender and sexual orientation. In my courses I have found men who tied women, women who tied men, but also non-binary people, cis, trans, straight, homo, bi, asexual… really every possible combination. And it is right that it is this way, that everyone can do what they want. Nothing also prevents you from alternating in the various roles.
Not only that: there is no more or less important or more or less strong part. Entirely different things are done; there may be a difference of "action", but the value is the same. As in a football team it is no longer important who is the striker and who the goalkeeper.
Being a top (the one who ties) does not mean doing what we like and being bottom (who is tied) does not mean being weak! And not even having had any particular traumas in childhood! We are two people who want to feel good and want to make their partner feel good. It is simply complementary.
"But couldn't it be that people who know me will think I have some perversion? Or that I am a person who will have sex with anyone? What if I meet someone I know at a course? What if I propose it to my partner and they think I'm out of my mind?"
Fearing not being understood is perfectly understandable and I certainly cannot tell you how it is best to behave. Sometimes behind certain judgments there is only ignorance, not knowing what the truth is, but this certainly cannot excuse a lack of respect.
The only tying I feel like saying is that in these areas in which we put ourselves, our sexuality, our emotions at stake, it is essential to trust the person in front of us, to know that it is possible to establish authentic and respectful communication, and also be as aware as possible of what we are looking for. For this reason, those who do BDSM also think a lot about communication, negotiation and consent.
Maybe keeping certain things inside is as frustrating as talking about them with a person we don't trust. But once again everyone has to do what they feel like doing.
.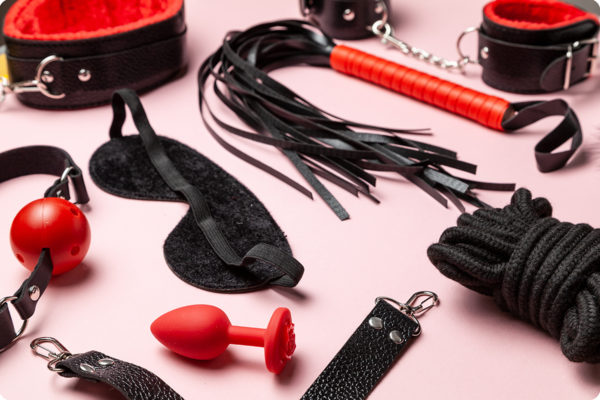 5 – There is more than ropes!
While many people think it is just ropes, the term "bondage" refers to all practices that cause restraint, such as handcuffs, spreading bars, PVC film, harnesses and of course ropes too! In the latter case, it would be more correct to speak of "rope bondage".
Not only that: even within the "rope bondage" there are different styles, such as the "American" or "Western bondage" – that of the images of Bettie Page to be clear – and the Japanese one – also called "shibari" or "kinbaku" ". Not to mention the "fusion" styles!
There is therefore no "best" way to do bondage; everyone can find the most congenial style and material.
In fact, doing bondage does not end with immobilizing a person. Technique counts, but the important thing is that it serves to convey and welcome sensations and emotions and to make us live a positive and satisfying experience. Tools are useful but it's more important how you use them!
So, if you want to experiment with your partner (or, why not, even alone) something simple about bondage, try something you have at home – for example a belt or towel band – but above all think first about what really attracts you about this practice and talk about it with your partner.
You may discover fantasies and wishes that never came to light and that may turn you on even before you start playing!
.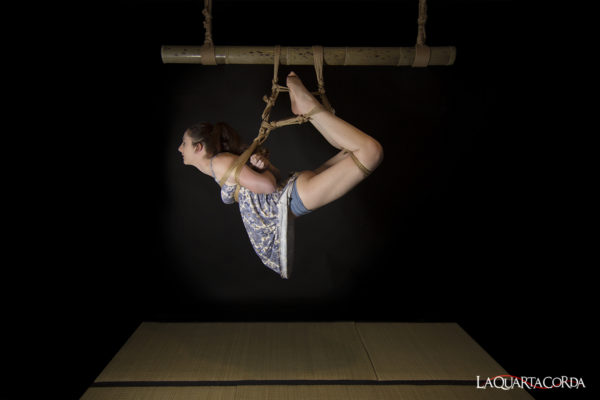 6 – Is it dangerous?
Would you hop in a car with a person who does not have a driving license? No, right? With bondage it works much the same way.
Doing bondage – but also many other BDSM practices – has risks and it is precisely for this reason that it is important to attend courses, get information and discuss with other enthusiasts. Fortunately, it is a "study" that can be very enjoyable and that concerns both top and bottom.
Obviously, to make some easy tying, you don't need to have attended specific courses and watching some online videos can be a good way to acquire basic information. Tying the ankles to the bed with a towel belt is not as dangerous as doing suspensions, just as spanking is not the same as using a whip.
And if we want to know more or learn more complex techniques, then it will be necessary to consult a professional. Today it is possible to find workshops and meetings in major cities, as well as books and a lot of online material, not only on technical aspects but also on historical, cultural, aesthetic, etc.
On my website there are several articles and videos, including a guide on safety and one on consent and negotiation, two very useful resources to start better understanding how to approach this discipline.
Unfortunately, there are also those who improvise doing things that, perhaps, do things that go beyond their own abilities and that of their partner. After all, common sense is always fundamental; if you are prepared and do things that are at your level and that you know how to manage, the risks are greatly reduced.
.
7 – Safe, sane and consensual
There is an acronym that summarizes the basic principles of BDSM: "SSC", or "safe, sane and consensual".
"Safe" means that we must try to reduce the risks as much as possible – so be technically prepared, aware of what you are doing, trust your partner, etc. – but also avoid being in an altered state of consciousness due to alcohol, drugs or other substances. And by safety we mean both physical and psychological.
"Sane" means that we are capable of distinguishing fantasy from reality. To be clear, thinking of living as in "Histoire d'O" or believing that as dominant you can do what you want is part of fantasies that it is good for them to remain as such.
"Consensual" implies that those who play certain games clearly express their willingness to play them without being prodded to do so, that they are informed of what will be done and aware that they can interrupt the session at any time.
Obviously, it is impossible to make a practice completely "safe" and what is "sane" for one person may not be so for another.
Does everything seem a bit excessive to you? Do you think that the SSC takes away spontaneity from the game?
Far from it! If someone in this environment were to show up and say that they don't need to attend classes because BDSM is "in their blood" or that they don't SSC because they "like the risk", they might be able to dupe someone online, sooner or later, the knots would come to a head. Hopefully as soon as possible!
.
Final Game – Have you ever thought about bondage?
I hope all this information I have given you has been useful. You can share it with your partner or in your profiles to spread bondage around, as it is a practice that can give a lot of satisfaction to those who like it.
But I want to leave you with a little game.
Close your eyes and think of an image of bondage, the first that comes to mind; it can be something imaginary or that you have seen, a memory or a fantasy, with you or without you.
Keep it in mind.
Let's go back to reality and reflect for a moment on what you have thought. Were you present in the image or were you a spectator? Did you focus on the person who tied or the one who was tied? Or more generally on the scene? What touched you about that mental image? And what feelings does it make you feel now that you think about it?
Here, these can be food for thought to understand what attracts you about playing with strings.
What do they mean? Only you can know. Surely it is a good start to get to know you, much better than trying just to try or because it is "fashionable"!
And you can play this game with partners or friends!
So happy bondage "discovery" and maybe … see you at a course!
.